RMER Personnel
Learn about RMER's staff and founder. Want to become involved with RMER? Contact us.
CEO: Jenny Burnsed, MS, LPC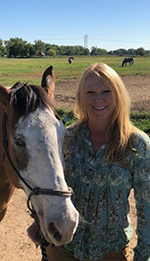 Jenny Burnsed is a Licensed Professional Counselor and Licensed School Counselor who has worked with children, teens, parents, and families since 1993. She has worked in a variety of settings including public schools, community mental health, equine therapy centers and in private practice.
In 2000, Jenny was exposed to the healing power of the horse and began volunteering with a variety of Equine Therapy Centers. During this time she had endless opportunities to observe the therapeutic power of horses and how they facilitate growth and healing in people. After these experiences, Jenny began to pursue training and understanding of the Equine and Equine Therapy. Jenny has completed training through EAGALA (Equine Assisted Growth and Learning Association) and PATH (Professional Association of Therapeutic Horsemanship) as an Equine Specialist in Mental Health.
In addition, Jenny is trained in several other modalities including, EMRD, CBT, DBT, Neuroscience, and Play Therapy. Her approach is eclectic and she feels every individual is unqiue, as is the approach.
Jenny feels extremely grateful to combine the spirit of the horse with the healing of individuals she works with. She is passionate about empowering clients and families through their healing journeys.
"There is something about the outside of a horse that is good for the inside of a man."
"Two feet move our body. Four feet move our soul."
President: Merry McMahan, MA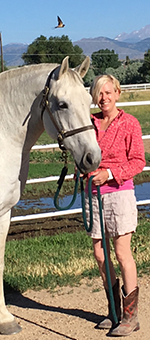 Merry has over 25 years of experience as an art therapist, art educator and clinician. She has had the opportunity to work in many settings from psychiatric facilities, schools, hospitals, the projects, day treatment programs, residential treatment centers, to youth corrections.
A believer in the experiential process, 18 years ago Merry began incorporating the horse as co facilitator in the therapeutic sessions.
Combining the art therapy and equine therapy allows the individual a way to have a tangible reminder of the horse experience. The art offers a snapshot in time. Merry is constantly reminded of the power of the horse to support, encourage, and empower those who need it the most.
Founder: Caroline M. Roy, MSW, LCSW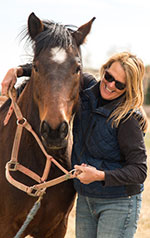 Caroline M. Roy is a Licensed Clinical Social Worker who has worked with children, adolescents, and adults in Boulder County for the past thirty-five years. Her work in the criminal justice system as a probation officer provided an opportunity to work with adolescents and adults from a variety of backgrounds who were experiencing numerous challenges. In 1999, she created Rocky Mountain Equi-Rhythm at Joder Arabian Ranch, out of a desire to work with youth in a non-traditional way. Since that time, she has worked with individuals from diverse backgrounds and provides therapy and skill building to help manage life challenges using the healing relationship of the horse. Caroline also works with horses and children in the capacity of a riding instructor and 4-H leader. She combines equine therapy with EMDR and dialectical behavior therapy (DBT) to address an individual's trauma and teach skills of mindfulness, emotional regulation, distress tolerance, and interpersonal effectiveness. Caroline has a private therapy practice and works with children, adolescents, families, and adults. Her therapeutic approach is eclectic and combines classic psychodynamic therapy with a family systems therapy approach and incorporates her training in attachment theory, relational trauma, neuroscience, mindfulness, and experiential learning. Caroline also has certificates in farrier science, equine therapy, and mind, body, and energy therapy and is currently obtaining her yoga instructor certification. Click to read Caroline's letter when she stepped down as director in 2018.
Want to become involved with RMER? Contact us.